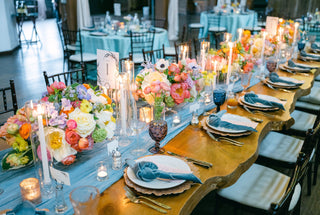 Italian Riviera Inspiration
Lauren & Mark
This late spring wedding transported us to the Italian Riviera for a beautiful evening in the city!
Planning your own Vashon celebration? Let our experienced florists help bring your vision to life.
Setting the Tone
Lauren and Mark said their heartfelt vows in ceremony under twinkle lights and crystal chandeliers. They kept their ceremony decor simple and went big for the reception. The vibrant colors popped against the natural wood of historic Sodo Park. Soft blues, bright pink and apricot floral arrangements adorned the live edge tables. Throughout the venue guest enjoyed stunning statement pieces that brought this Italian love story to life.