Froggsong Gardens
Erika & Tom
On a perfect summer's day, Erika and Tom read their vows and committed to love each other endlessly, surrounded by lush greenery and brilliant blooms at Froggsong Gardens. Featuring timeless and classic decor and details, this is a wedding that will be loved for years to come.
Planning your own Vashon celebration? Let our experienced florists help bring your vision to life.
Garden Romance
In the Queen's Garden, Erika and Tom lovingly exchanged their vows among their friends and family. The natural beauty of the gardens were enhanced by a draped floral archway, sage bridesmaids' dresses and stunning white bouquets.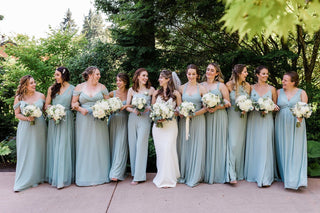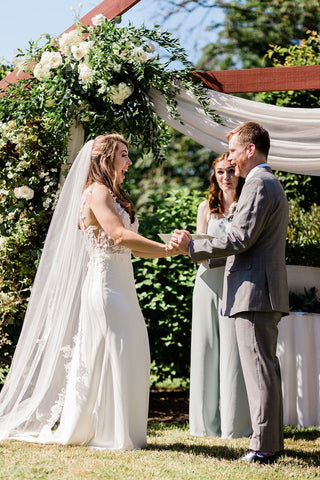 Delectable Details
Froggsong's meticulously manicured grounds offered Erika, Tom and their guests a place to immerse themselves in each other's company while enjoying a variety of gourmet seasonal food and beverage options. "His and Hers" drinks were served during cocktail hour and were accompanied by tray-passed appetizers. The custom dinner menu featured Herban Feast's popular Summer Raspberry Salad, Honey Mustard Glazed Rosemary Chicken, Citrus-Rubbed Wild Pacific Salmon, Baked Stuffed Tomatoes, Tri-Color Quinoa Salad and Herb-Roasted Seasonal Market Vegetables.
To end their quintessential summer wedding, Erika and Tom chose a s'mores bar for dessert before a beautiful sparklers wedding send-off!